Links
The first link that you click on will open a new tab/window to simplify your return to this site. Subsequent clicks will re-use that tab/window.
Port of London Authority

and in particular ...
PLA Live Tides
Live Tides enables you to find out the height of the tide in real time as measured by various tide gauges, and to compare it with the prediction. If you are interested in a particular tide, it is worth checking the tide gauge for Tower Pier. You will see a number of "metres from prediction", showing how much higher the actual level is (or lower if the amount is negative), normally not more than + or - 0.5 metre. If the level is more than about 1 metre below prediction, this probably means that the Thames Barrier has been closed for our protection. You can also check on the water level at Richmond Lock which gives a good indication of the strength of the river flow over Teddington Weir.
Chiswick Pier Trust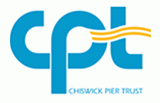 which also includes a wide range of links to other sites related to the Thames and Chiswick.
Where Thames smooth waters glide
An extraordinary site created by John Eade and named after a line from a poem carved on a tree on Castle Hill, Wittenham, Oxfordshire, overlooking the Thames. As well as masses of historical material — pictures, quotations, poems — there are also some complex charts with real-time information about the tides. I could browse there for hours!
Local Community sites. This is where you can find lots of information, local news and gossip about the riverside communities: